AVAILABLE FLOORPLANS
Currently building in the beautiful Savannah Place neighborhood!
GET STARTED
Ready to get started crafting your dream home?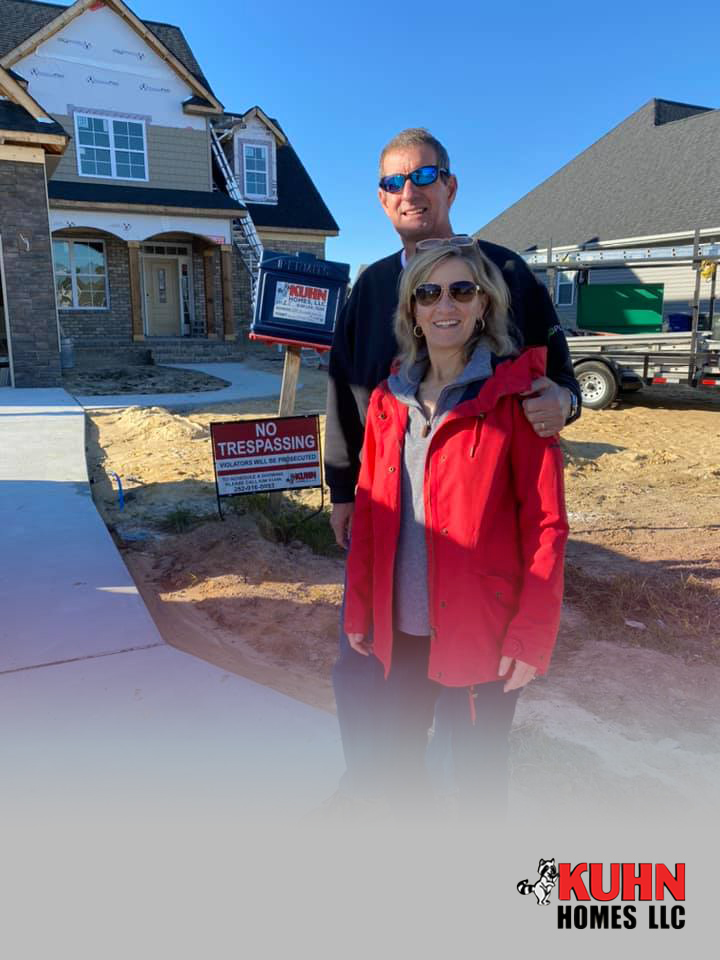 Greenville & Winterville's
Premier Home Builders
For practical, affordable and beautiful custom-built homes, Kuhn Homes serves as the premier home builder for the Greenville and Winterville areas.
Expertly crafted, our homes feature 3-4 bedrooms, 2-3 bathrooms, a 2-car garage, finished bonus room, floored attics, craftsmanship, and attention to detail. Select your lot in the wonderful Greenville-area neighborhood where Kuhn Homes builds, and let's start building YOUR custom home today! You can view some of our move-in ready homes when available.
Whether your family is young and growing, or you're downsizing your empty nest, have your perfect home built to suit your ever-changing needs! Take a look at our available homes or select from a variety of floorplans in our "Can Be Built" models, and let's work together to make the home of your dreams a reality.
We want you to LOVE your new home!
Family-owned, we take pride in building homes that are both beautiful & practical. From start to finish, we will be with you through each step of the process. We believe in hard work and high quality, and deliver that in each home we build. 
HEAR WHAT OUR
CUSTOMERS
HAVE TO SAY
Jeanette
"Buying a home can be stressful but Kim made this one of the most wonderful experiences ever. She was just as excited as I was. It was so much fun picking out my lighting, colors, etc. Kim was right there with me every step of the way. Thank you Kuhn Homes
"
Randy & Brenda
"David & Kim Kuhn are the best at making your dream home a reality. They get your vision and from day one begin making it come to life. Kim worked with me in all areas but her and I just clicked when it came to interior design. I had so much fun picking out even the smallest of details. Randy and I would highly recommend this team in making your new house your HOME."
TD
"Absolute amazing craftsmanship, design and quality. Kuhn Homes builds the most beautiful homes. The customer service is completely satisfactory! You never feel like just a number. Your satisfaction is their number one priority! We had the best experience. No horror stories! So happy we chose them!"
Tony & Barbara
"We couldn't be happier with our recent purchase from Kuhn Homes. The quality craftsmanship and attention to detail were just two of the reasons for choosing Kuhn Homes. The "Alexander", with its open floor plan, roominess and extras is a perfect fit for us. Working with David and Kim was such a positive experience, and we highly recommend them to anyone looking to buy a new home."
Walter & Rita
"…to sum it up in one phrase: 'Turn-key ready'. We moved in the day after the finishing touches were done. We were told to make a list of defects during our first year and they would be taken care of at once. The problem with that was that at the end of the year we still didn't have a real list. This builder uses excellent sub-contractors who do it right the first time. The amenities added in the home made move-in much easier ~ there seemed to be a place to put everything. If you are looking for move-in-ready, buy from Kuhn Homes."
Jamie & Jennifer
"We were very impressed with Kuhn Homes and were delighted to find our house was finished ahead of schedule without compromising quality or attention to details. We are very happy that we chose Kuhn Homes to build our new home."
Phillip Williams, RE/MAX Preferred Realty
"What attracts me to a home built by Kuhn Homes is the high level of craftsmanship and quality of construction. I can count on showing my buyers a great home when we see a home built by Kuhn Homes."
Steve Kelly, Realtor, Aldridge & Southerland Realtors
"I've had inspections done on about five of your homes when they were several years old. I boast to my buyers about how well they are built, and sure enough, every one of them do great. Thanks!"